There was a time when all the advice on getting a job in digital marketing looked the same. I even created my own free PDF guide for students on this subject last year.
The advice normally followed the lines of starting to brand yourself (on relevant, non-personal social media), you would start an online portfolio (blog, YouTube channel, podcast, etc.) then you would get some experience in digital marketing either by volunteering at a charity or using our personal networks or local community to find small projects to work on…
You get the idea. But that was then and this is now. And now, it's all different.
And it's all A HELLUVA LOT easier: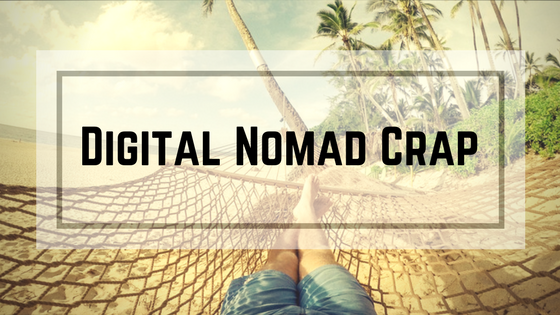 Digital Nomad Crap 
This blog post came about because of three recent events.
The first was a random idea I had one day to do an Instagram story about what my work actually entails. Why? Well because I work from home, so no one really understand what I do, other than sitting at a computer all day. For all they know I could be running a drug smuggling empire from my Macbook (I'm not, FYI).
The story explained how I'm able to run a successful remote-working freelance digital business from my new home in New Zealand – after emigrating from Ireland last year. I talked about the different types of clients and jobs I was doing this month across various areas of digital marketing from content creation to social media and teaching.
And then I mentioned at the end that although I worked about 60 hours a week, at least I had freedom. I had no boss. I answered to no one. Just myself.
Literally, I had messages from all over the place from students, industry colleagues, random followers who were genuinely interested, impressed even, that this could be done. And they wanted to know more.
I was hesitant of course. Because I know that this could technically push me into the bracket of "digital nomad" territory, a lot of which is crap. I'm sorry, but it is. Yes there are genuine people doing it ('it' being travelling the world and earning money just by being on their computers) and some of them even have genuine reasons for wanting to help you do it – like my good friend Kyle Gawley who has a free course and YouTube videos; check it out.
The rest of the digital nomad content out there however, is bullsh*t faux motivation from people who either make their money from their laptop but lie about how much effort it takes (and simultaneously post a photo of themselves lying in a hammock) or you'll find the other bracket of offenders who don't work from their computers at all. They simply make money by getting you to part with yours so they can tell you how they supposedly made a fortune backpacking and taking selfies.
I did not want to join that club!
HOWEVER…
Digital Nomad Can
Around the same time I met a young Marketing student named Michael Bliss for coffee. He'd been to one of my guest lectures on social media and needed some advice on how to turn his hobbies – freestyle football, YouTube video editing and photography – into a job that would enable him to travel globally and compete in the sport.
I found myself spending a full hour imploring him to do what I wish I'd done; start freelancing his skills online.
This kid was super talented when it came to video editing, photography, social media content – particularly video, which is massive now – plus he had an Instagram following worthy of calling him an "influencer" to boot (excuse the pun). Follow him on Instagram and see for yourself @michaeldbliss (for footie) and @bliss.visuals (for photography).
I realised then that the advice I'd been giving to students and young professionals on my blog was actually out of date.
What I would REALLY do if I was starting my career over didn't involve physically working near my home and following a job-to-job career path up the digital marketing ladder. Instead, I would do what I've done in the last two years as a freelancer. Then, because you can do it anywhere on the planet and I wouldn't yet have all my Mummy responsibilities…
I'd be seeing the feckin' world while I was doing it lads, let me tell you.
A week after meeting Mr Bliss, a woman I'd delivered training for at a digital education centre here in Dunedin asked for ideas on what kind of events or information sessions we could run for International Youth Week in June. And the first thing that came to mind was this:
Teaching students how to become digital nomads to fund their gap year travels.
Everyone thought it was a good idea. Because it is a bloody good idea.
And instead of keeping the how-to information to the people in that room I'm going to share it here with all of you!
What Kind of Jobs Can A Digital Nomad Do?
Digital Nomad, Freelancer, Remote Worker, the Gig Economy; call it what you like, but it is not an actual job title in itself.
Rather it refers to any number of roles that can be done in the modern economy from anywhere as long as you have the skills, equipment and a decent internet connection.
They include (but are not limited to):
Web Developer/Coding (this one is high demand and is the most lucrative)
Online English Teacher (1-1 via Skype)
Freelance Writing (what I do)
Freelance Digital Marketer (also what I do!)
Graphic Designer
Social Media Manager
Media Editor (podcasts/videos/Photoshop… can require some expensive programmes)
Virtual Assistant (things like office skills, business writing, proof reading, spreadsheets)
Photography (plus selling photos for image stock websites)
Personal Trainer (online programmes or 1-1 wherever you travel)
Drop Shipping or online store (using eCommerce systems like Etsy, eBay, Shopify)
Affiliate Marketing via Amazon (getting paid for sales through hyperlinks)
Blogger/YouTube/Instagram (hardest to build and then monetise)
eBook Author
Consultant (of anything: coach, finance, business, sales, health, etc.)
So as you can see, the traditional idea of "a Digital Nomad" isn't just confined to the digital marketing industry, but the majority of roles do tend to fall within those parameters.
Of course you don't just choose one of these jobs, add it to your LinkedIn profile and then wait for the pay cheque. It's not the same as having an actual 9-5 job, otherwise everyone would do it!
It requires building up a stable of clients. That means business development, just like starting any business. And that's why it's so doable when you're young.
You don't have kids to feed, mortgages to pay, and you're probably a bit more willing to suffer hardships like moving around a lot or sleeping rough on a beach, than someone well into their 30s like me (my bad back couldn't take it for a start).
The reason many people go out to travel or live in countries like Thailand while they do this kind of work is because the cost of living there is much cheaper. If, when you start, you could only find one job a week paying just £50 a job, that's £200 a month. That's enough to cover your essential bills in South East Asia. Whereas that's like one week's rent for me here in New Zealand!
(I did blog about what you can expect to earn starting out as a freelancer recently if you want to check that out for more info).
And though it's hard at the beginning, there are ways and means to grow your client list quickly:
How To Build A Remote Freelance Business
Network
Online
You'll want to plan this venture by getting your online persona ready. Tidy up your social media accounts, update work descriptions on places like LinkedIn and start posting relevant blog articles or social posts about what you do. Join groups you can find related to your industry on Facebook or on apps like Slack.
Create an email that explains what you're planning to do to send to friends and family. Specifically ask them to pass it on to anyone they know who might need to hire your services (explain what those are, don't assume people know what digital marketing is!)
At the same time, create a social media post to share among your personal networks to ask the same. Don't feel bad, all you're asking is for people to back you and take two minutes of their time to pass it on. This also means that any referrals are coming to you from a source whose opinion they trust, so they're half sold on you before you even talk to them.
Then cast your net a little wider. Contact anyone you have worked with before, even if you were just an intern, a casual waitress in their cafe, a customer of their hair salon, maybe someone you met once at an event or conference.
Remember to explain briefly who you are and what you do (they may have forgotten, don't take it personally!) If you don't have any examples of work you've done in the past then instead specify the types of clients or jobs you want to get in the future. Offer to provide references, even if only personal ones.
This isn't just advice for students. When I first started out I did this too – I reached out to people by sending an email. Then I targeted companies I wanted to freelance for who might need outsourced help and I sent them introductory letters and small gifts. I got my first few regular clients this way!
IRL
(That's in real life BTW). I'm all about the initialisms because I'm down with 'da kidz'.
Anyway, face-to-face networking hasn't gone away with the onset of social networking. And nor does it lose relevance just because you're working miles from the people who may employ you, or indeed because you land in a country where you don't know anyone.
Granted in this situation, social networks like LinkedIn and Facebook can absolutely be your ally, and LinkedIn is a particularly good one because you can search for job titles by country. So if you're looking to get writing work you may be searching for Content Managers or Social Media Managers, or if you want video editing work you'll be looking for Production Managers or Videographers… you get the idea!
But there's a lot you can do in person, too. One of the best places to start no matter where you are in the world, are co-working spaces. These hubs of startup and entrepreneurial activity are best known for benefits such as giving you a listed business address and access to affordable desk space, but a lesser promoted benefit is that of business development.
Co-working spaces are great places to meet other people like you – possibly travelling or working abroad. They're often already doing these types of nomadic/remote jobs and can impart vital advice, not just on the country you're in but on managing the experience in general (isolation can be a problem for people who don't have office colleagues or a team to be part of). The collaborative nature also means people help each other out, so if you're just learning digital marketing, or you're wanting to up-skill, this is a great place to exchange your skills or knowledge with someone else. Even if you can only afford to hot desk one day a week, you'll see the benefits very quickly.
Don't overlook existing physical businesses in the cities you travel to either. Look them up and contact them. Ask to meet or chat. People are often open to this, even busy digital agency staff! Maybe you'll be staying long enough to do some work with them, or some shadowing for experience. If not, just making those connections could lead to them recommending you to someone else.
The world is still very much "who you know", it's just a lot easier getting to know people now!
Jobs Boards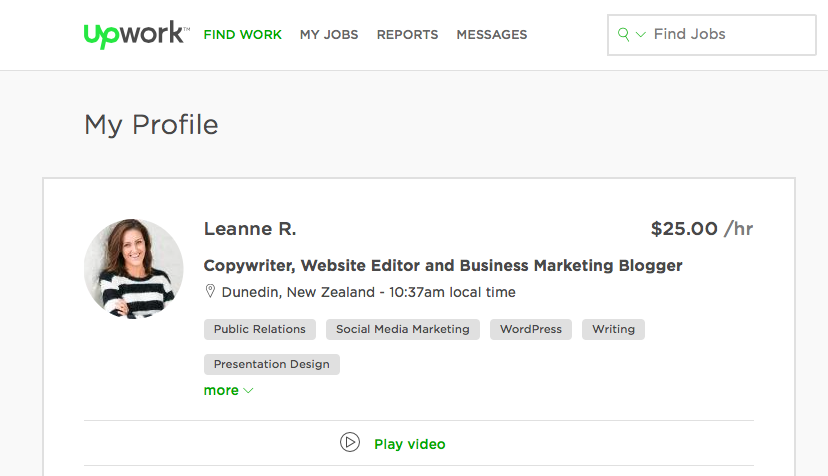 If you haven't heard of famous online jobs boards like Fiverr, Upwork or Outsourcely then you need to check them out. Now.
Granted, they have incurred their share of criticism in recent times amid accusations of driving down rates. And on Fiverr that can certainly be the case from what I've seen. However it could be valuable when you're just starting out, or struggling to find new clients, to do some lesser paid jobs this way to build up your experience and portfolio of clients.
I've made connections through Upwork with some New Zealand digital marketing agencies in particular who are using it to hire both entry level and expert level freelancers in digital content creation or social media management.
Ultimately though, its more work on your part to constantly build new relationships and juggle new briefs, so you're end goal is to find one or two recurring clients (as I have) which will ensure you get regular work that eventually becomes quicker for you to deliver while also guaranteeing you some steady income. These are called retainer clients. That way you can diversify and experiment with the rest of your time while knowing you have regular jobs to fall back on.
So for example outside my retainers (digital content and website editing) I can do some blog writing, social media training, guest lecturing, social media management, whatever comes my way. And much of it will eventually just "come your way" in the form of referrals, returning clients or simple word of mouth in your locality or wider industry.
There will also be a variety of more casual jobs boards depending on what country you're in. Local city Facebook groups or simple Google searches should bring them up. For example there's one in Australia called AirTasker where people post all sorts of odd jobs. Some of these can be simple tasks related to the industry you hope to gain experience in – say writing online news releases or social media posts – and others could be as alternative as earning $25 for picking up a KFC bucket for someone (someone who is clearly desperately hungover).
Portfolio
If I've said it once, I've said it a thousand times.
You should be creating something online. Content isn't just your online portfolio to attract clients. It's your virtual business card, it's your inbound marketing, it's your business development tool and your online reputation management.
Build your brand. Because working for yourself means there's no logo for you to hide under. There's no boss ahead of you shaking hands and introducing you. No one is expecting you to become a famous Instagram influencer or vlog your travels religiously. Just make an effort to show that you understand the online world and that you can do what you claim you can do.
The types of businesses and brands who are open to hiring young people remotely around the world are the same types of businesses and brands who appreciate this type of activity.
The Tools You'll Need To Work Remotely
So this Digital Nomad dream isn't entirely hippy. You might be able to ditch your suits for sandals, but you're also going to need some kit. Depending on what kind of work you decide to outsource, that kit could involve serious cash.
For all the jobs listed above, you're definitely going to need a laptop, and a good one at that. Then, if you plan to do design work or editing of any kind, you may need some good software. Programmes like Adobe Photoshop for example can cost triple figures. But the investment could be worth it if that's going to be your source of income. Where possible you can mostly rely on free programmes like iMovie for videos or Canva / Adobe Spark for images.
To help clients manage you as a remote member of their team you will need to have internet access, and in some countries (or because of the work you do) you may want to look into VPNs and secure networks. You can usually trust a co-working space or library though!
Then you'll want to acquaint yourself with the myriad of apps we all use to manage team work and keep in touch. All my clients (woefully) use different systems. So currently I have:
Slack
Glip
Basecamp
Trello
Freedcamp
Asana
Harvest
Honestly, I'm not making this up. But fear not, once you've used one you've used them all. (Except Asana, it's the worst from an interface point of view, avoid like the plague!)
Then for digital marketing projects you might be given access to systems that help you deliver the work, like Co-Schedule or Buffer for social media management, or WordPress for blogs.
And if you want to focus on video production or photography, then a solid camera investment is a must. (Mine is the Powershot GX7 but video is a small part of my job so it's a good, medium range product). However for social media video there are good apps to help you shoot and edit footage from a decent iPhone for example.
So there you have it…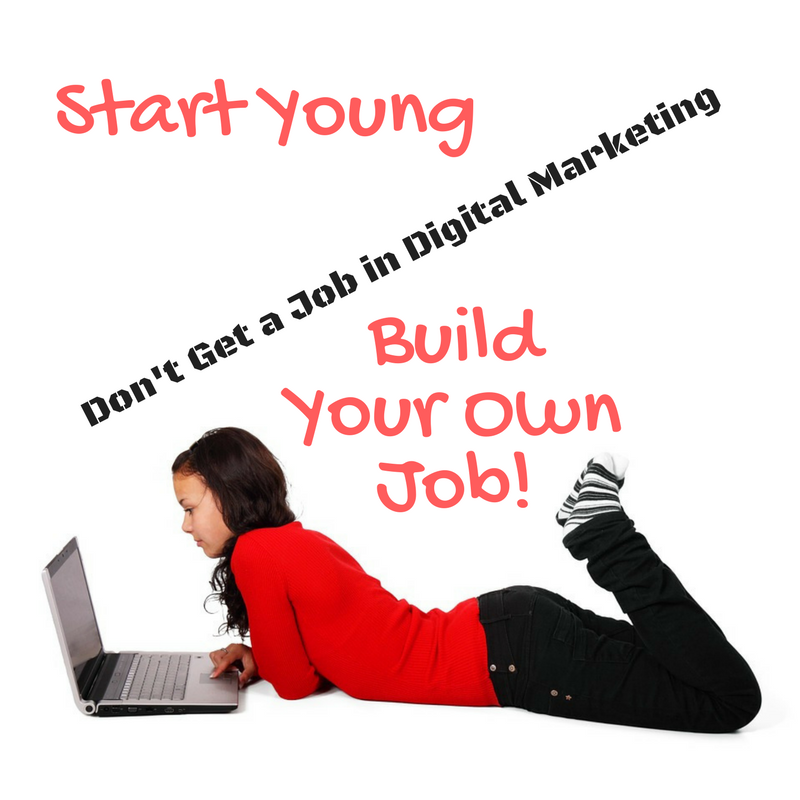 The new way to get a job in Digital Marketing doesn't involve getting a job at all… 
It means creating your own role by finding lots of different jobs.
After a year or so you could end up with a flourishing freelance business that means you don't have to take on a 9-5 digital marketing job even if you do decide to go home or settle in one country, like me.
Or, worst case scenario, it doesn't pay, or you find it too stressful, or you want to go back to the corporate world. Then you return with a wealth of experience – not just in skills, but in client portfolio AND the skills of running a business and its finances – as well as perhaps the personal experience of having seen some of the world on your way. 
And some would argue that that is worth more than any amount of money could ever pay you.
Go forth and see the world my friends.
From my new home here on the other side of this planet, I can assure you that the world is big, it's beautiful, and I wish I'd seen it sooner.
Lx