Apologies that I've been MIA for a month.
My Dad visited our new home in New Zealand from Ireland last month and we had a lot of fun seeing the sights and basking in the Autumn sunshine, including his last day which we spent on the beach making this #DANIAwards17 hashtag to celebrate my award for Highly Commended Business and Tech Blog 🙂
However Dad eventually had to catch the Big Bird home and now I'm back to work, prepping for a busy Winter here in Dunedin – delivering a social media training event for The Hive next week (for charities) followed by another guest lecture at the University of Otago the following week (on social media for healthcare campaigns) and then next month I'm speaking at the Sport Otago Forum to their member organisations about, you guessed it, social media!
Of course all of this is on top of a "day job," or a few day jobs to be precise, which I do remotely from home. One of which is fairly new – Managing Editor for Digital DNA's website.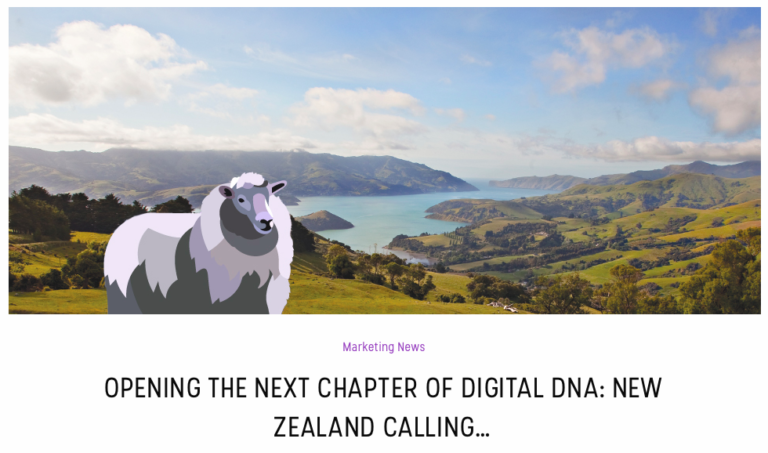 My first month in has been a learning curve of empathy, where I've realised that for those outside the blogging world (i.e. most people) the concept of writing an article is actually quite foreign and not necessarily something they relish doing.
The internet is filled with advice and tips on guest blogging aspects like finding websites that will accept a guest blog. But when you think about it, those tasks are primarily aimed at people who are already comfortable with the idea of writing about their business and are at the outreach and SEO stage.
What is needed is a compilation of all the advice and guidance I find myself emailing back to businesses, Marketing Managers and agencies alike, about how to actually craft a guest post for a website. Guest blogs are not the same as press releases nor do they read the same as a leaflet or website page. And for a lot of business folk, guest blog posts are a painful job on the to-do list.
Outreach isn't necessarily something they have actively done. They may be offered a blog spot as part of an event speaking role, or a brand sponsorship package. They may be asked to do it by a new client, or told to do it by a line manager.
In many of these cases the dreaded blank page awaits…
However it's important to not to waste the opportunity of a guest blog spot.
A guest blog on the right online outlet can spread awareness of your brand and reach potential customers in an audience beyond that which you've currently managed to grow yourself. If the blog contains backlinks (as Digital DNA's do) then you have the added benefit of SEO juice for your Google rankings and the increased likelihood of more targeted referral website traffic.
You then also have a new piece of content to push out on your own social media channels with the bonus of being hosted by a reputable third party, showing people that you have been endorsed by others, rather than just tooting your own horn on your website or blog.
What do I know about it?
Well obviously I've kept my own blog here for 4 years (next month) but I've also conducted outreach in order to place guest articles from myself on other industry blogs.
More useful than that though, is my experience in writing guest blog articles for a multitude of other businesses across a variety of industries. You'll find many of these articles over on my Contently profile but as an example, the last few include a variety of topics from caravan interiors to graphic design trends, from FinTech to cyber security, from old age fitness to European architecture…
What that tells you is that I am an expert waffler.
Jokes. No, really, what that tells you is that there is a need to be a half decent writer to begin with – though it gets better with practice – so assign the job to someone in your business who has the baseline skills. But it also tells you that you don't need to be an expert in the field.
You can research a lot of information, case studies and examples to include if you want to. You can search for inspiration that exists online (there isn't an industry yet that we haven't created guest blogs for!) In fact, because you know your business already, you're already one step ahead of a stranger like me. But I understand that it can appear more daunting than it is.
So, if this sounds like you, where do you start?
How to Write a Guest Post from your Business
What to Write
Read through the existing guest blogs on the target website, particularly any that seem similar to your business or your wider field of expertise. How are they written? Usually you'll find a mix of styles from interviews, to commentary pieces which read like a monologue of opinion backed up with facts and examples. There might also be some specific how-to articles or "listicles" such as Top 10 this or Top 5 tips for that…
But look beyond the actual text of each article and think about who the audience are. Where are the similarities between the website's audience and yours? That is the space you need to write in. So if you're an Accountant and you're writing for a tech website, focus on FinTech or tax breaks for startups or the latest apps revolutionising modern accountancy… whichever slant you feel you can speak confidently on that hasn't already been covered by the site recently.
Next you'll want to consider what's happening in your industry and see if you can position yourself as being ahead of the curve on knowledge and expertise. Has legislation recently been introduced that affects it? Are there developments happening in terms of your local industry or on a national scale, e.g. exporting? This is where you can truly add value with your content and it is this information that – even when niche in nature – will be shared and bring you targeted leads.
Failing that, look to what is topical in the mainstream news that might link to your work. Anything that is a big talking point socially, whether it's political like Brexit or pop culture like The Lions Tour in sport or fashion at The Met Gala, you can find an angle on something that links to your work. I have personally linked my own work to things like TV shows, my holiday airline, rugby, my wedding…! The win is in the spin my friends, and there is an angle for everything.
You can also take a sneaky look at what other types of content like yours is trending online, receiving lots of coverage and shares. Even in the free versions of websites like Buzzsumo you can see the top few results of articles and blogs on any topic. This might spark some inspiration that's relevant to your own organisation.
And if nothing current feels like a good fit; go back to basics. There is no harm in writing a simple article for your industry that has been done before, because you will make it your own, in your voice, with your examples, or your advice from your experience.
A simple tip for this is to use the free PR tool AnswerThePublic.com which will show you the most searched questions around your keywords, in the big English speaking regions that use Google. Websites will always appreciate that you are creating content which directly answers the audience's questions – because it drives more traffic for them and, again, more leads for you.

How to Write it
The thing to remember about guest posting is that it shouldn't be a chore. You should put as much effort into it as you do when you're finalising content on your own website, or producing new marketing materials like printed leaflets for example.
If you don't want to do it, and we can't persuade you of the benefits, then let the opportunity go. Rather that than allow something mediocre to go public from your business. And anyway if it's a quality site (with a ruthless editor like me) then it will have reached those heights of influence and authority primarily because it doesn't publish every old piece of copy and paste that lands in the inbox. So you could end up wasting valuable time if you don't put a decent amount of effort into the exercise.
What is a decent amount? Well, for someone experienced like me to produce an article of commonly acceptable length (say 1,000 words) it will take between 2-3 hours usually to research, write and proof-read, depending on how new the topic is to me.
One tip for new writers is to start with a heading. It gives you some focus and direction. Hubspot's blog topic generator is a nifty little free tool for this because it utilises the most common traits of popular blog post headlines. Simply input a few nouns that describe your business and press the button for inspiration.
When it comes to planning your blog post, start with the tips you learned during English lessons at school (remember those?!) When you write a story you'll mark out an introduction and a conclusion first. Where is the starting point and what do you want them to know, or believe or agree with, by the end?
Then you'll want a few key paragraphs in between that illustrate the topic. One can explain it to the audience. One could be your experience. One could include research and stats or case studies (try to include hyperlinks to sources where you can). Then start filling these paragraphs out with a few lines in each. Before you know it you'll be at 500 words and then it's a matter of honing it to be a strong piece that reads well (without any spelling or grammatical errors).
Lastly, include a byline, unless you're happy for them to write it for you. It's much harder to go back and ask an editor to change articles, not least because they've moved on to working on the next couple of week's stories. So write a line or two that describes who you are, where you work (with a link to your website) and anything else that sets you apart, be it awards or experience. Send a headshot and the links to your social media profiles too.
Additional Materials
Anything you can add to the piece of writing will really help to strengthen your post – not just for the Editor approving it – but for the ultimate goal of impressing the audience who will see it. You want them to, at the very least, go away with a positive impression of your business. More than that though, you will hope for business leads through sharing online or word of mouth.
Peppering your articles with screen shots, infographics, research theory and statistics or just plain good photography is a great way to enhance a piece and make it more popular with visual online readers. Just look at how I've constructed this blog post, for example!
Screenshots are the easiest way to do this, but if you are struggling with budgets you could use a free tool like Piktochart or Canva to try creating your own simple infographics. Or you might want to just find some industry-related photographs that look professional but don't break any copyright rules. One of my favourite sites for these is Pixabay.com.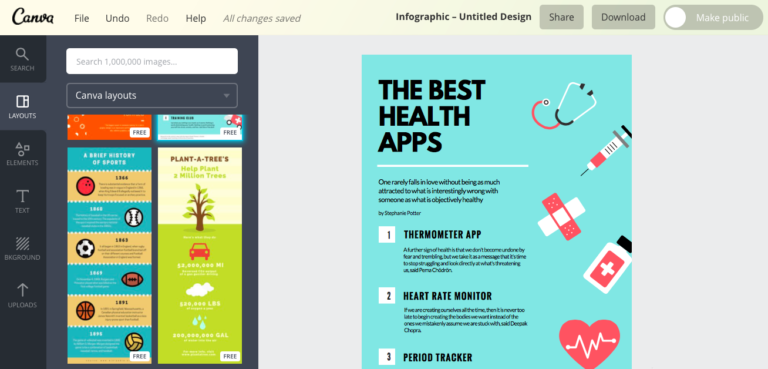 Follow Up
Once you've sent your guest blog post and the website has published it, don't just post about it on your social media channels and then move on to the next job.
Follow up with the publication to see how it performed. Did they get any feedback or questions (these might be from potential customers). Keep an eye on their social channels where they post the link. You won't get notifications for these unless you're tagged in them, but people may be commenting underneath and it would look pretty impressive if you're there to reply and engage with readers.
You might want to suggest a follow-up article on a similar or totally new topic. Chances are this will be easier the second time around. Build that relationship or use the existing links when pitching to other outlets to show them the type of content you can produce. If it's a particularly good piece, think about including the latest links in your staff email signatures so all new and existing contacts get to see it.
And keep promoting the content at other times throughout the year yourself. As your own audience grows, your "old" work is new to them. Re-use it to get the most out of it.
After all, you put work into it.
So make your guest blog posts work hard for you.
P.S. if you want to submit an article to Digital DNA – go here!
Lx