I'm on my way my way back from a whirlwind one-night-trip to the city of Wellington, in the North Island of New Zealand, a short flight away from my home town of Dunedin in the South.
But since emigrating a year ago, Dunedin is my second home town. Belfast was my first.
Continuing my work in the Marketing and Digital/Social Media fields on this side of the world means I can bring a lot of learning from Ireland and the UK, while learning lots of new concepts and approaches from all the technical minds here! (Read on to see my presentation content below…)
National Digital Forum
I was in Wellington to speak* at the NDF annual conference.
It's a 2-day event that brings together people from the GLAM sectors (galleries, libraries, archives and museums) to discuss a myriad of digital issues; from how best to digitally archive collections to new technologies for engaging audiences.
It was a fantastic learning and networking event and I'd highly recommend anyone in the digital sectors to attend (I don't work in a museum but the $25 annual NDF membership is more than worth it in my opinion).
You see, I am a self-confessed history geek.
Museums are among my favourite places to spend free hours. They have been a huge part of fun family time with my son as he grew up, too. I even got engaged on top of a medieval castle (Dundrum, to be precise) because luckily my husband is also a history fan.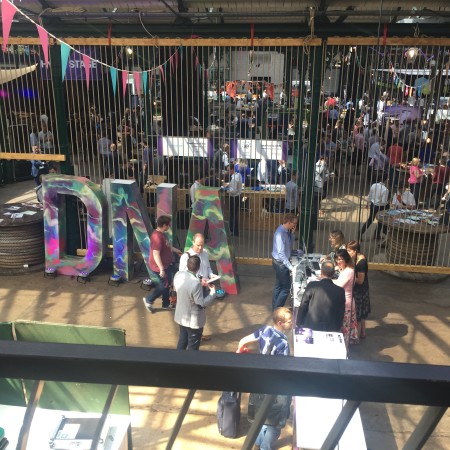 So when the call for guest speakers came up, I thought it might be useful to share with fellow NZ professionals some of my favourite examples from Ireland, perhaps as much for creative inspiration as for technical learning.
The trip also meant a chance the museum of New Zealand – Te Papa.
(And I finally got to meet in person my Twitter friend, author and all-round-fabulous science lady Laurie Winkless who signed a copy of her book "Science and the City" for me! You must read it, it's fab!)
From One Island To Another
While I sometimes miss the plethora of ancient history, museums and arts/culture festivals in Ireland, I've been pleasantly surprised to find a younger-but-equally-wonderful historical narrative in the museums and historical sites of NZ.
These are two islands that, in economic terms, rely heavily on a tourism industry that is fuelled by the stories they tell the world – about their place and their people.
While I could list numerous things the two countries have in common, one of the most compelling for visitors from Europe is the deep cultural – and often personal – links between the nations.
Links like that of my Kiwi husband Bronson, whose mother came with her family as a young child, escaping war-torn Belfast and arriving in the South Island after two months on a boat.
These are profound stories, handed down from generation to generation. And isn't that what history is, after all, when we distill it down.
Stories. And storytelling.
It's the responsibility of museums to tell the most important stories, those we often don't have a personal connection to. But those we must not forget, nonetheless.
Stories that might not always interest us. Stories that might sometimes make us uncomfortable. Stories that are, ultimately, only getting older by the day.
And while New Zealand is undoubtedly as gifted as the Irish when it comes to the art form of cultural storytelling, the rapid rate of technological change affecting how we consume information as a nation demands that 'the forms our storytelling take' must change with it.
Because the more access technology gives people to information and experiences, the more challenging it is to get people physically out into a museum, to experience your storytelling.
I know this both as a lover of museums and as an agent of the very digital change that threatens them.
Technology: The Good and The Bad
I've recently been working with a mobile games company in Dunedin. While their products are based factually on nature in an effort to share a love of the outside world, their latest work in Virtual Reality will bring that experience directly to people inside their homes.
Some might argue that that's counter-productive to the message.
But as someone who has been inside a pyramid in Egypt – best holiday ever FYI – and someone who also recognises that it's an experience not open to everyone, an experience that may one day have to close to anyone at all (like Stonehenge)… I can see the pros and cons of educating history and culture through technology, while still passionately believing that 'inside a museum' is a wonderful and important place for everyone to spend time.
So with Ireland's experience of telling older stories than New Zealand (900 years or so older to be precise) and telling them to an arguably-even more digitally-reliant young audience than we have here (though they'll catch up soon), what lessons are there for maximising the potential for telling engaging stories to new generations?
Lesson 1: Digital Partnerships
Ireland 2016 joined forces with Google Street View to mark a special year in the country's history – the Centenary of the Easter Rising when rebels fought Britain for independence.
The award-winning virtual tour brought the stories and people of the rebellion to life, as visitors (either on foot or at home) explored iconic places, exhibitions and artefacts from six cultural institutions.
Throughout the tour – which was narrated by Irish actor Colin Farrell – visitors were able to stop in front of city locations as they stand today, hear what happened there and click to explore photos, videos, personal letters and artefacts as well as witness statements.
Of course audio walking tours are not new.
Cities across the world use these communication tools to allow for 24-7 tourism access to the stories of their past.
However the use of Google technology in the partnership, and the ability to layover old and new visuals, made the experience much more emotive and real for people. And it also ensured that anyone around the world could take part, too.
This entertainment-style educational outreach tool was created in conjunction with other work by the National Library of Ireland under the banner of "digitising 1916."
This included archiving the Bureau of Military History's collection to democratise research, digitising the personal paper of 7 signatories of the proclamation of independence and making some 90,000 images available online – using social media to invite comment from the public, learn more about them and contribute to the historical record.
Making materials from these local institutions available via Google's cultural institute in this way, opened up one small country's history to a huge global audience.
Lesson 2: Virtual and Augmented Reality
Technologies like AR and VR hold so many possibilities for immersive storytelling.  I know this only too well working with a company that designs such experiences.
While the implementation in museums has been minimal due to the pace and cost of equipment and design, where it has been incorporated it has often become the talking point of a museum's exhibitions.
One good example is the much-anticipated opening of the Titanic Museum in my home town back in 2012, an event that marked the centenary of the sailing of the ill-fated ship.
While the impressive hull-shaped building at the site of the shipyard slip held many exciting exhibits for visitors, there is no doubt that the 360 degree virtual tour became the standout piece.
It's a simple way to overcome the challenges of VR headsets by designing an almost holographic experience that moves as the visitors remain standing still.
Although slightly disorientating to experience, the way the visuals and sounds sweep you through the ship from the engine rooms to the decks is breathtaking in its ability to really show the grandeur and the scale in a way that makes the end of the story that much more meaningful.
In anticipation of the opening of Titanic Belfast, many people assumed that the physical replica of the grand staircase in the museum's ballroom would be the defining feature, but it simply doesn't evoke all of the senses in the way that the virtual reality tour does.
The video sweeps you up from the bows of a ship, through the coal burners to the third class quarters, up to first class and out onto the Captain's deck and the wide open sea. The lighting changes, the visuals change, but so too does the sound.
Proving that it isn't just the stories, but the way we tell them, and how we help people experience them, that defines success for modern museum visitors.
We have to make them FEEL something.
Some Irish museums are now starting moving forward with bespoke VR projects, too.
EPIC – The Irish Emigration Museum – recently launched a partnership with Digisoft.tv for its Virtual Reality experience.
Located in the vaults of the 1820 Custom House Quarter building in Dublin's Docklands, the original departure point for so many of Ireland's emigrants, it tells the dramatic story of Irish emigration brought to life in a fully immersive 360 degree virtual experience.
But these technologies can be used for fun as much as for education, too.
For example, Augmented Reality specialists were brought in to help make the Wax Museum more interactive when it relaunched in Dublin last year.
The revamped museum was 'gamified' so people could use their phones to follow clues and collect 'treasure' as they made their way around the exhibits.
Visitors could even hold their phones over the models while the faces moved and the voice through their smartphone told the person's own story on screen.
The National Gallery of Ireland used similar technology to bring the stories behind the paintings to life with an app used during the Masterpieces travelling exhibition.
This 'Pokemon Go' style of interactive experience has proven really effective for engaging children in particular, employing easily accessible technology in ways that they are already familiar using them.
And, thanks to new 3D technology, there's even an opportunity to replicate yourself at the Wax Museum. People are able to scan themselves – and anything from a mini-bust to a full sized figure can be produced!
Lesson 3: Digital Lifestyles
There are other, less expensive digital initiatives hat Irish museums are experimenting with when it comes to reaching digital audiences and bringing their stories to them, in the spaces they naturally hang out in.
One really successful example was 'A Night At The Guinness Storehouse' campaign in partnership with AirBnB.
As one of the top Irish tourist attractions the Guinness Storehouse welcomes over 1.6 million visitors a year. The challenge was to bring people closer to the experience with an engaging concept that would drive visitors from international audiences.
Partnering with global tourism giant Airbnb, the Guinness Storehouse was listed as the most exclusive residence in Dublin to stay on St Patrick's Day.
Of course the off-shoot of creative and unique ideas like this is that they drive their own PR momentum, from worldwide news coverage to thousands of social media shares and discussions.
And they position a museum as something more than an attraction, but a cool lifestyle destination to truly experience in person.
We see this done more regularly, in less adventurous ways, with sleepover events like "A Night at the Museum" or "Dinosaur Discos" etc. But the Guinness Storehouse showed that a little more creativity can go a long way.
So rather than museums with limited resources always looking at ways to bring the technology and digital trends inside their spaces, there are opportunities to be found in partnering with the technology channels that exist, and bringing the museum's brand and stories to the people where they are, on those platforms.
Lesson 4: Communicating Socially
Another simple way to reach new audiences and breathe new life into museum communications comes when campaigns find safe and fun ways to, essentially, handover the keys to their public channels.
I can usually feel Marketing and Communications Managers quaking in their shoes when I mention this…
But even in traditionally-conservative the Ulster Museum, Ulster Folk and Transport Museum and Ulster American Folk Park all took part in an initiative called the Teen Twitter Takeover Day.
The brainchild of Dea Birkett who is the founder of the UK-wide 'Kids in Museums' organisation, it aimed to help connect museums with teenagers, an audience most at risk of disengaging with history and who are heavily-reliant on digital communications.
In contrast to the typical expectation of museums banning mobile phones and expecting respectful silence, young people were welcomed in and encouraged to communicate, socialise and share in a way that felt natural and comfortable to them.
Thus reaching a new audience of their peers and allowing the museums to learn how to move their storytelling forward, by seeing the stories and exhibits through different eyes, from a different perspective.
The young people can then give the museum valuable feedback on how to improve and the conversations they have online elicit further questions and feedback that the museum can use to ensure their marketing messages are really going to reach these crucial new audiences in the next generation of visitors.
Granted, social media in the hands of someone else can veer off-message, but that's a purposeful strategy that has won the Los Angeles County Museum of Art numerous awards from it's Snapchat content.
It even saw them beat off both the Met and the Museum of Modern Art in New York to win an award for cultural engagement…
So while the stories museums continue to tell are vital to the informed-advancement of our society, and while we undoubtedly want to visit museums to get up close and personal with those stories and their artefacts (not merely viewing digitised re-imaginings of them), there is no reason why fun or excitement through technology have to be excluded from the experience, in order to achieve those aims.
*The NDF recorded this workshop for their YouTube channel, so if you want to see me bumbling my way through it in person, keep an eye out for it being uploaded here!